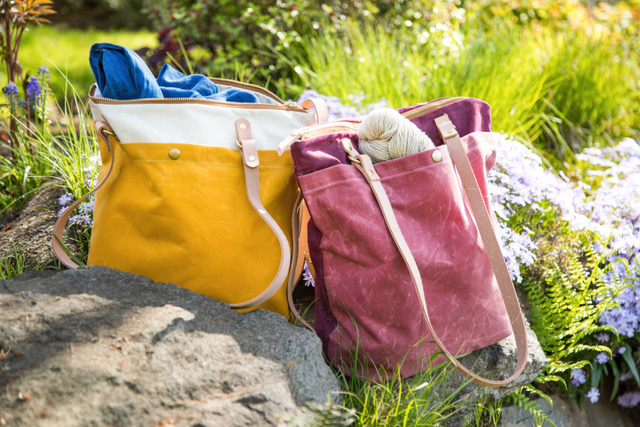 Versatile + chic, the Maywood Totepack converts from tote to backpack seamlessly. Designed for around town adventures and rambling outdoors with "I made this!" bragging rights.
Price: $200
$100 + $100 Materials
Sewing Level: Beginner/Advanced Beginner
Some sewing experience is required.
Time: One full day
Snacks provided and lots of local places to eat.
Skills Learned
- Sewing zippers
- Attaching hardware & straps
- Sewing pockets
- Sewing liners
- Creating boxed corners
- Handling heavy-weight fabric
- Constructing a leather strap system that converts from tote bag to backpack
Standard Features
- Zipper closure at top
- 1 outside pocket & 1 inside pocket that fits up to a 15" laptop
- 10 oz waxed canvas exterior
- 12 oz natural canvas liner
- Real leather straps
- Metal snap closure on outside pocket
- Leather straps to convert from tote bag to backpack
- Metal Hardware & O-Rings
STYLE YOUR COLORS:
We cut and prep all your materials for your class MAKER KIT, ready for your arrival.
So let us know what colors you'd like!
See some of our favorite combos below:
NOTE YOUR COLORS FOR: MAIN BODY / POCKET / LEATHER
MAKE IT AGAIN... with a discount!
Lucky you! Students get wholesale pricing on extra Maywood Maker Kits purchased in class- with a 40% discount! Continue building your skills by making another tote for a friend, because you know they'll want one;) Discount given on day of class only.
Find out more about the class experience here.